Why 
Stainless Steel

 Evaporative Condenser ?

In 1950's galvanized evaporative condenser has been selected to use in refrigeration system for the industry as food and beverage, cold storage or mining. Nowadays a lot has changed in our world as environment, air pollution or water quality.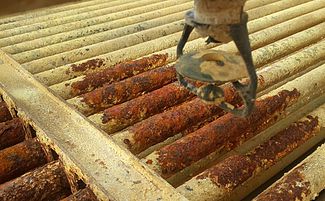 HEATAWAY present the better solution by Stainless Steel Evaporative Condenser coming with lots of advantage whether it be more durability, non-corrosion, or reduce the cost of operation and maintenance to be your benefit.

Stainless steel is an alloy of Iron with a minimum of 10.5% Chromium. Chromium produces a thin layer of oxide on the surface of the steel known as the "passive layer". This prevents any further corrosion of the surface. So Stainless Steel Evaporative Condenser can provide Longer life time by more durability material.
According to the experiment of corrosion rate of Galvanized steel and Stainless steel from Thai-French Innovation Institute, the results is Stainless steel has less corrosion rate than Galvanized steel because Chromium in the metal forms a film of chromium oxide over the surface to be shield to protect further corrosion. Therefore Stainless Steel Evaporative Condenser has greater corrosion resistance for faced with "Hard environment". 
While the zinc layer on galvanized steel is temporary film, so even minor scratches can result in rust or damage from any corrosion, is different with Stainless steel that can anti-corrosion by nature. With automatic self-passivation, stainless steel evaporative condenser do not need continuous monitoring and re-passivation to re-build the protection film.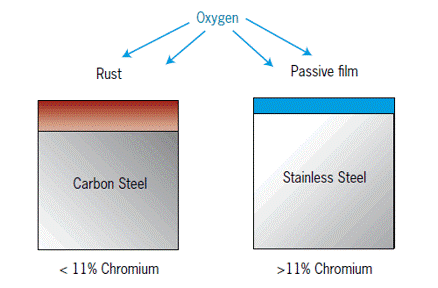 HEATAWAY making Stainless Steel Evaporative Condenser to meet the client 's satisfaction by
"Longer Life Time" with
"Greater Corrosion Resistance" but
"Less Maintenance"